Beth Hart
Hammersmith Apollo
08/02/20
Verbals & Visuals: Erik Damian
Last night Beth Hart put on a commanding performance at London's iconic Hammersmith Apollo. With friends and family present in the audience, Beth surprised the capacity crowd by entering from the back of the hall and making her way through the audience, as she took the stage singing 'There In Your Heart' as the crowd stood enraptured by her presence.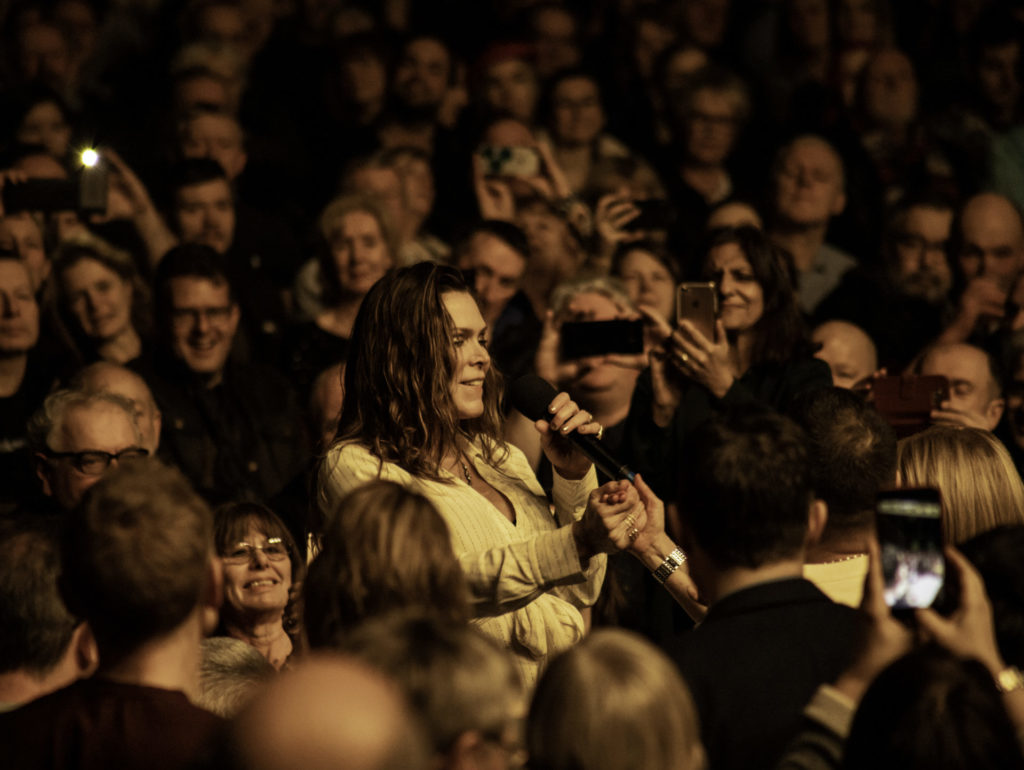 Although a seated affair, the venue could barely contain the energy generated by Beth and her stellar band, as she treated us all to one glorious song after another from her extensive catalogue, as well a few amazing covers in the form of Slackwax's 'Close To My Fire', Tom Waits' 'Chocolate Jesus', Melody Gardot's 'If I Tell You I Love You', and rounding them off, two that even surprised the band themselves – 'I'll Take Care of You' by Bobby "Blue" Bland, and Etta James' 'I'd Rather Go Blind'.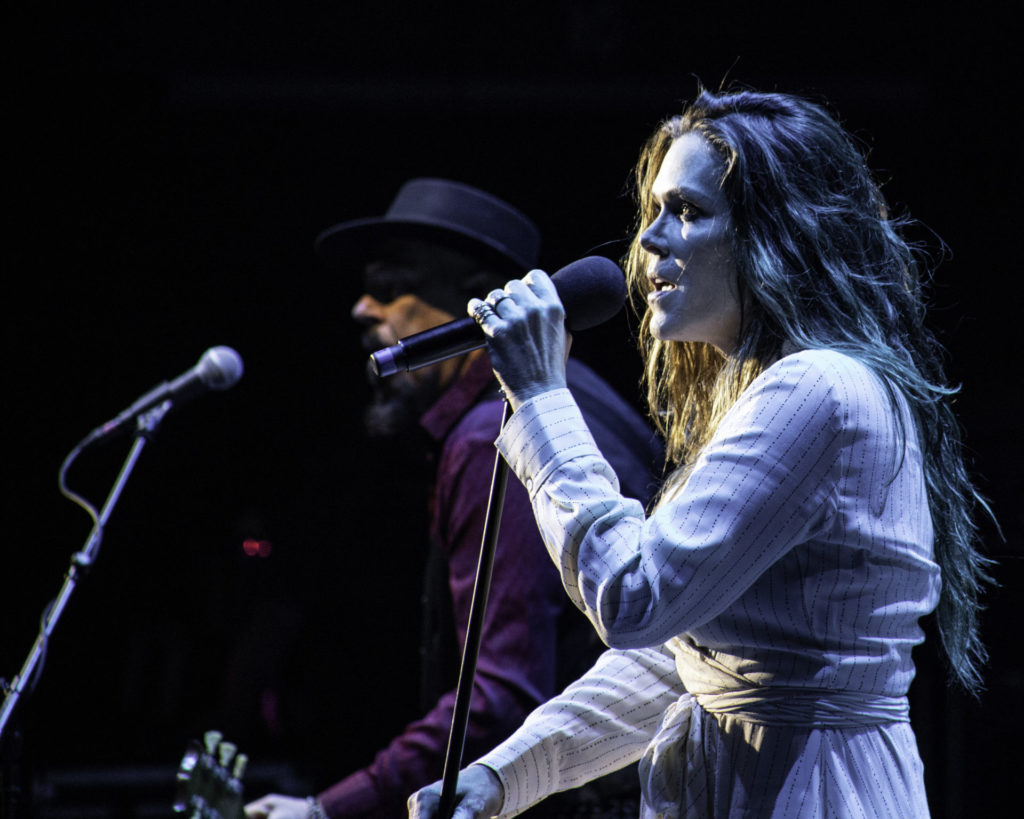 As the evening wound on, and the hits kept coming, we were treated to an acoustic set, which featured 'Baby Shot Me Down' and 'Spanish Lullabies' along side two of the notable covers. Closing the evening was a spine-tingling rendition of 'Woman Down' which simply featured Beth solo on the piano, the ending of which was met with thunderous applause.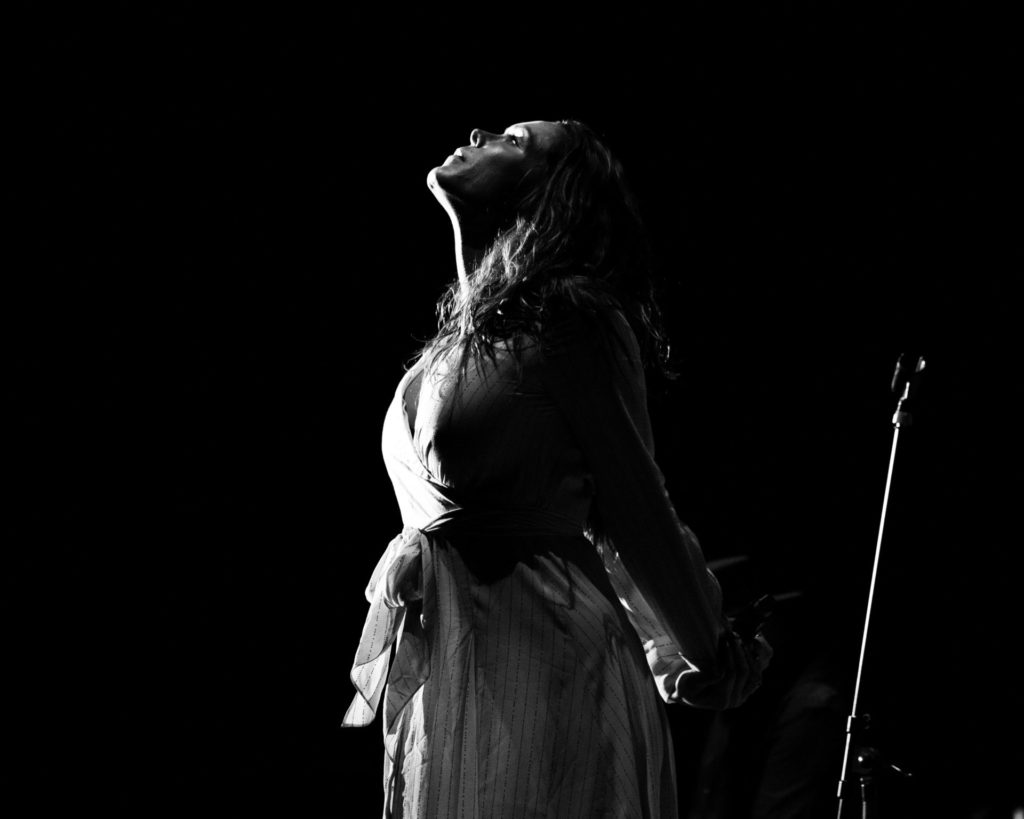 Time and again, Beth Hart has shown herself to be one of the most talented, and hard-working Blues artists in the world, and last night was no different. Throughout the night Beth took us through a masterclass in stagecraft and singing, as the audience was captivated by the spectacle that she was creating. At times, the audience was deafening, and others, you could hear a pin drop for the reverence that the crowd had for her and her performance. This was musical art in its purest form, and I was blessed to be in attendance.
SETLIST
There in Your Heart
Close to My Fire (Slackwax cover)
Waterfalls
Rub Me for Luck
Chocolate Jesus (Tom Waits cover)
Bad Woman Blues
I'll Take Care of You (Bobby "Blue" Bland cover)
Good as It Gets
War in My Mind
Sugar Shack
Tell Her You Belong to Me
Sister Dear
Mama This One's for You
Baddest Blues (Beth solo on piano)
Without Words in the Way
Acoustic
Baby Shot Me Down
If I Tell You I Love You (Melody Gardot cover)
Spanish Lullabies
I'd Rather Go Blind (Etta James cover)
Encore:
Woman Down (Beth solo on piano)
Be sure to subscribe today to see our full review of the upcoming Manchester show!
Also be sure to get yourself a ticket while they still remain for one of these amazing shows. You will not be disappointed!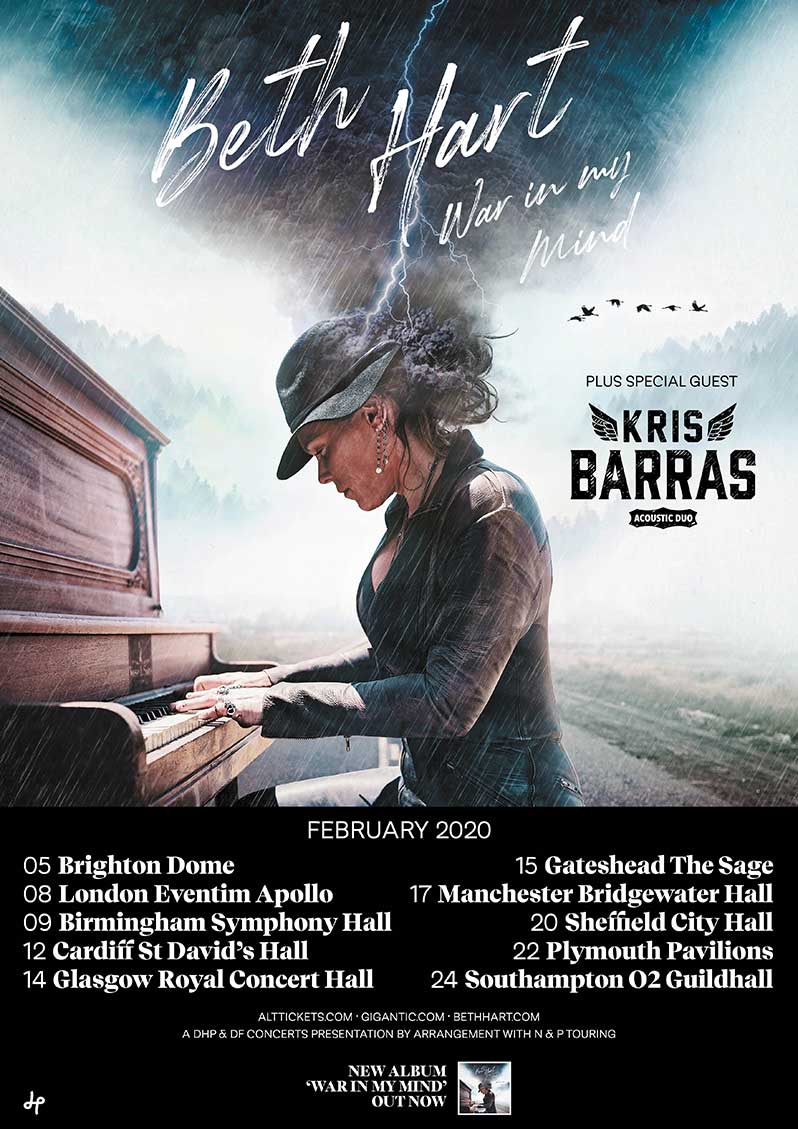 FEBRUARY 2020 UK TOUR
WITH SPECIAL GUEST KRIS BARRAS
Beth Hart 2020 UK tour with special guest Kris Barras
REMAINING DATES
Symphony Hall, Birmingham – Sunday 9th February 2020
Facebook | Twitter | Instagram
Broad St, Birmingham B1 2EA
www.thsh.co.uk
St David's Hall, Cardiff – Wednesday 12th February 2020
Facebook | Twitter
9-11 The Hayes, Cardiff CF10 1AH
www.stdavidshallcardiff.co.uk
Royal Concert Hall, Glasgow – Friday 14th February 2020
Facebook | Twitter
2 Sauchiehall St, Glasgow G2 3NY
www.glasgowconcerthalls.com
The Sage, Gateshead – Saturday 15th February 2020
Facebook | Twitter | Instagram
St Mary's Square, Gateshead Quays, Gateshead NE8 2JR
https://sagegateshead.com
The Bridgewater Hall, Manchester – Monday 17th February 2020
Facebook | Twitter | Instagram
Lower Mosley St, Manchester M2 3WS
www.bridgewater-hall.co.uk
City Hall, Sheffield – Thursday 20th February 2020
Facebook | Twitter
Barker's Pool, Sheffield S1 2JA
www.sheffieldcityhall.co.uk
The Pavilions, Plymouth – Saturday 22nd February 2020
Facebook | Twitter | Instagram
Millbay Rd, Plymouth PL1 3LF
www.plymouthpavilions.com
O2 Guildhall, Southampton – Monday 24th February 2020
Facebook | Twitter | Instagram
W Marlands Rd, Southampton SO14 7LP
https://academymusicgroup.com/o2guildhallsouthampton
The post BETH HART wows London on second night of UK Tour! appeared first on Blues Matters Magazine.