Following on from the critically acclaimed and commercially successful fifth year in 2019, Ramblin' Man Fair returns in 2020! This year the festival will take place on the 17th, 18th and 19th July 2020. Having recently announced Clutch for three sets in 2020 as a special new festival residency concept, Ramblin' Man Fair are delighted to announce further acts for the already spectacular bill.
RIVAL SONS (Headliner, Planet Rock Mainstage, Sunday 19th July) – Ramblin' Man Fair are thrilled to announce Rival Sons as this years Sunday Night Headliner, Evoking the bluesy rock of bands like Led Zeppelin and the Black Crowes, California's Rival Sons emerged in 2012 as hard rock classicists with a modern edge thanks to their breakout second album Pressure & Time. The Long Beach band enjoyed success at home in the U.S. while becoming perennial chart staples throughout much of Europe thanks to releases like 2014's 'Great Western Valkyrie' and 2016's 'Hollow Bones'. Most recently the group released their 6th studio album with 2019's GRAMMY® Nominated'Feral Roots' which includes the hit single 'Too Bad' which was also nominated at this years GRAMMY® Awards for Best Rock Performance. As Rival Son's most artful and deliberately crafted album to date, 'Feral Roots'finds the band pushing both buttons and boundaries to emerge with a greater focus and possession than ever before. "Rock 'n' Roll is a keystone in our cultural identity and you can see, hear, and feel it gathering speed everywhere you look. It's about to break wide open". Says Guitarist Scott Holiday. With Feral Roots, Rival Sons have pushed the needle over the limit line in what is a clear call to arms and an unflinching return to form for both the genre and it's fans worldwide.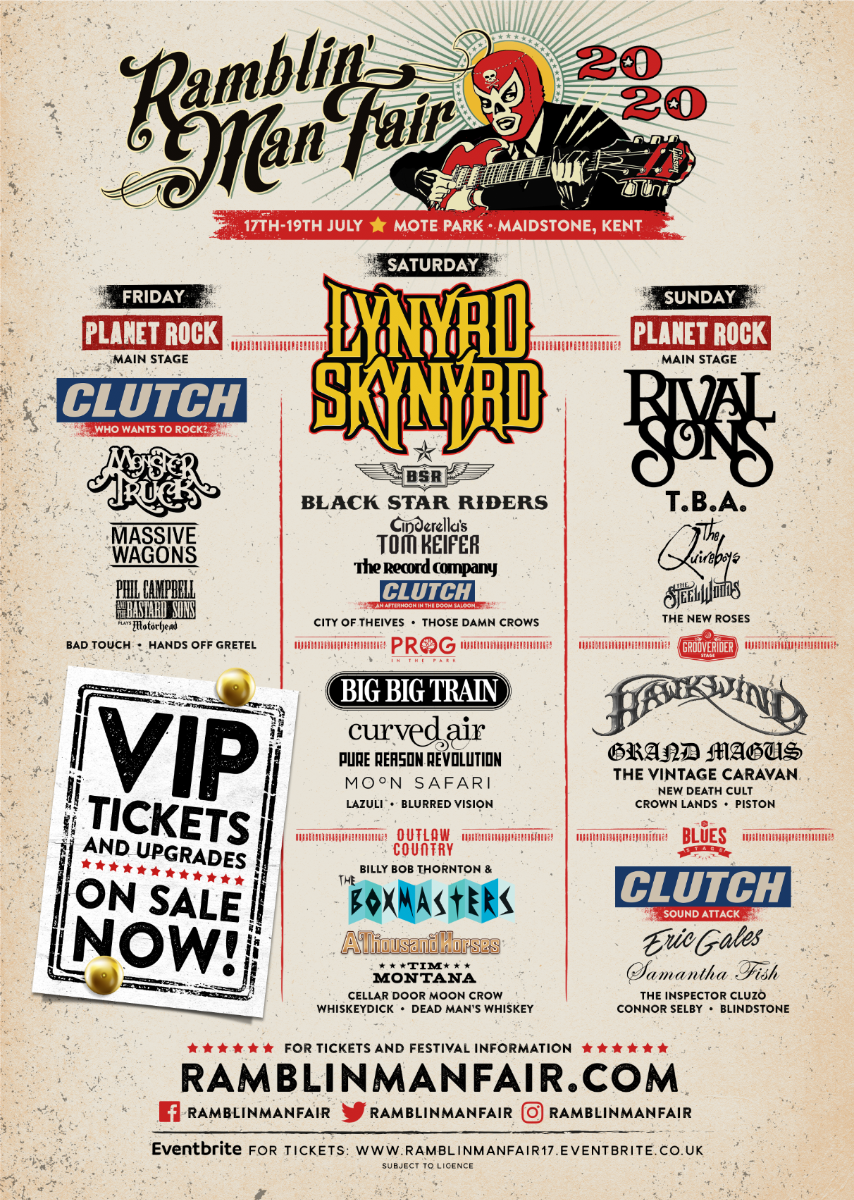 FESTIVAL LINEUP TO DATE BELOW
Planet Rock Mainstage, Friday 17th July.
Clutch(Headliner, Who Wants To Rock set),Monster Truck(special guests), Massive Wagons, Phil Campbell and the Bastard Sons, Bad Touch and Hands off Gretel.
Planet Rock Mainstage, Saturday 18th July.
Lynyrd Skynyrd (Headliner), Black Star Riders (special guests),Cinderella's Tom Keifer, The Record Company, Those Damn Crows, City of Thieves and Clutch Semi-Acoustic "An Afternoon At The Doom Saloon" set
Outlaw Stage, Saturday 18th July.
Billy Bob Thornton & The Boxmasters (Headliner) A Thousand Horses, The Steel Woods, Tim Montana, Whiskey Dick, Dead Man's Whiskey and more TBC
Prog In the Park, Saturday 18th July
Big Big Train(Headliner), Curved Air (Special Guest), Pure Reason Revolution, Moon Safari, Lazuli and Blurred Vision.
Planet Rock Mainstage, Sunday 19th July.
Rival Sons (Headliner), The Quireboys, The New Roses, Cellar Door Moon Crow and more TBC
Grooverider Stage, Sunday 19th July.
Hawkwind (Headliner),Grand Magus (special guests), Vintage Caravan, The New Death Cult and Crown Lands.
The Blues Stage, Sunday 19th July.
Clutch (Headliner, Sound Attack set), Eric Gales, Samantha Fish, The Inspector Cluzo, Connor Selby and Blindstone
Ramblin' Man Fair is shaping up to be an incredible 2020.
Ramblin' Man Fair will take place on 17th, 18th and 19th July 2020.
All tickets are available at the link below:
https://www.ramblinmanfair.com/buy-tickets/
To keep up to date with all Ramblin' Man Fair announcements please like, follow and visit us:
www.ramblinmanfair.com
www.twitter.com/RamblinManFair
www.facebook.com/ramblinmanfair
The post Blues rockers RIVAL SONS announced as Sunday Headliners for Ramblin' Man Fair! appeared first on Blues Matters Magazine.